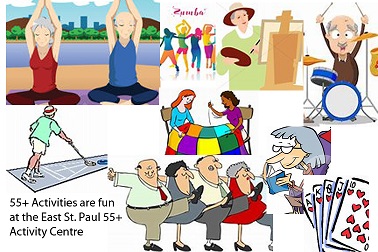 262 Hoddinott Road, East St. Paul, MB
Phone: (204) 654-3082

The East St. Paul 55+ Activity Centre is fully equipped with public Wi-Fi, sofas, chairs, a library, a fully functional kitchen as well as dining tables and chairs in a large bright space.

It is operated by the East St. Paul 55+ Activity Club which is comprised of vibrant and active East St. Paul "seniors" dedicated to providing activities and events for the betterment of East St. Paul seniors.

Membership in the Club (current annual fee of $10) entitles members to participate in any activities held at the Centre. In the past, we have offered many activities, including:
Artists of East of the Red

Book Club with the Bookies activity group

Cribbage and Whist with the Card Club activity group

Line Dancing* with the Step in Timers activity group
Musicians – with the Grey Grit activity group

Pool

Quilting and Stitchery with the Material Girls activity group

Shuffleboard

Yoga with Body Benders Yoga activity group
Zumba* with Silver Fox Zoombers activity group

* These activities are currently looking for volunteers to coordinate them.
If you are interested in volunteering or joining one of these groups, please email us at esp55plus@gmail.com.
Activity

Day

Time

Quilting/Stitchery

1st & 3rd Monday

11:00 a.m. - 4:00 p.m.

Book Club

4th Monday

2:00 p.m. - 4:00 p.m.

Cribbage

Tuesday

1:00 p.m. - 4:00 p.m.

Whist

Friday

1:00 p.m. - 4:00 p.m.


Pool

Tuesday & Friday

10:00 a.m. - 4:00 p.m.


Quilting/Stitchery

Wednesday

10:00 a.m. - 4:00 p.m.


Musical Group

Wednesday

7:00 p.m. - 9:00 p.m.

Yoga

Monday (Zoom only)
Friday & Saturday

9:30 a.m. - 10:30 a.m.

Yoga


Thursday

10:00 a.m. - 11:00 a.m.

Yoga


Tuesday

6:00 p.m. - 7:00 p.m.

Artists

Thursday (fall/winter)

6:30 p.m. - 9:00 p.m.

Shuffleboard

Thursday (October - April)

1:00 p.m. - 4:00 p.m.

Line Dancing

Monday




esplinedancers@gmail.com




6:30 p.m. - 8:00 p.m.

Zumba

NO CLASSES


Need activity coordinator